Let's face it, disasters happen. Whether it be a broken pipe or a leaky hot water heater, water damage can quickly ruin your possessions and cause structural damage.

When you're faced with a water damage disaster, call Chem-Dry ProNet / Montreal immediately. We will respond to your call quickly and provide you with professional water extraction and restoration services.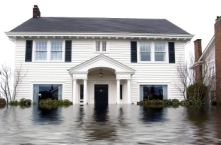 Professional water damage
extraction and restoration services
24 hour emergency service
Quick response time
Licensed and insured
We will bill your insurance company
Water Damage Recovery
Chem-Dry has a large inventory of drying equipment, air movers, dehumidifiers and other technical equipment. Timely action is essential. Remember that damage resulting from water is progressive. The longer the water flows or wet conditions exist, the more is absorbed and the greater is the recovery problem. Merely stopping the source of the incoming water does not stop further water damage, though it is an obvious and critical first step.

Our technicians are dedicated to getting your life back to normal as soon as possible. Our intention is to dry the entire structure. This will eliminate the potential for mold and mildew growth. We will respond as quickly as possible. After you have made the call to us, follow the instructions below. Hopefully this will enable you to salvage some of your precious belongings.
To minimize damage - DO the following...
Remove as much water as possible by mopping or blotting.
Wipe water from wood furniture after removing lamps and tabletop items.
Remove and prop up wet upholstery cushions for even drying (check for possible bleeding).
Place aluminum foil, china saucers, or wooden blocks between furniture legs and wet carpeting.
Open drawers and cabinet doors for complete drying (do not force).
Remove valuable paintings and art objects to a safe place.
Open suitcases and luggage to dry.
To avoid making it worse - Do NOT...
Leave wet fabrics in place, dry as soon as possible.
Hang furs and leather goods to dry separately at room temperature.
Leave books, magazines, or other colored printed items on wet carpets or floors.
Use your household vacuum to remove water.
Use TVs or other appliances while standing on wet carpets or floors, especially on wet concrete floors.
Turn on ceiling fixtures if the ceiling is wet, and keep out of rooms where ceilings are sagging from retained water.
Do not put wet contents on top of dry contents.
Water Damage Restoration Service Details
Emergency work may involve the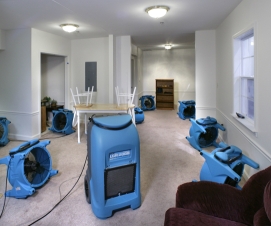 following to prevent further damage and the health and safety of you, your family, the restoration Technicians and any other sub-contractors that may need access to the property.
Application of anti-microbial solution to prevent mold and mildew growth and kill waterborne bacteria and viruses in sewage and external water incidents.
Extraction of standing water
Removal of content items, if applicable, deemed to be beyond economical restoration
Moisture testing to determine the extent of moisture content in structural material,
floor coverings and in the air
Installation of drying equipment such as dehumidifiers and air-movers.
Following the completion of the emergency work a detailed assessment of the damage to the building and/or contents will be undertaken.

Buildings
The extent or amount of restorative work performed will depend upon the extent of the flooding.

Any time flooding of any kind takes place in a residential or commercial setting, a drying and monitoring program must be instituted to ensure a full and complete restorative process is accomplished. Failure to do so may well create an environment in which bacteria and other microorganisms breed leading to potential health problems. Additionally, there is also the added potential for additional structural damage to flooring, walls, furniture etc. Therefore, the Technician will meet with you and arrange a schedule to regularly monitor the reduction of moisture in the building structure and air.

Unfortunately it is extremely difficult to determine the exact length of time it will take to dry the property as this can depend upon several factors including the depth of any standing water, the length of time the structure was submerged or wet and the structural materials used some of which create vapor barriers preventing evaporation of moisture. Regular monitoring will provide an ongoing record of the progress. It is essential that the drying equipment installed is used as directed by the Technician as the longer the equipment is allowed to operate the shorter the drying time. You may be concerned with the amount of electricity used so please note your electricity meter reading prior to the use of the drying equipment as the cost of electricity consumed can be reclaimed.

If damage has been caused to decorations and fixtures these will most likely be dealt with separately by your Insurers or Loss Adjusters who may have already appointed decorators or building contractors to provide them with estimates. Our priority is to leave the structure in a safe and suitable condition for other subcontractors to complete their work.

Upon completion of the restoration work the Technician will request that you sign off the work confirming that everything meets your satisfaction. This will enable the final report to be submitted to your Insurers for prompt settlement.

Content
After the emergency work has been completed our Technician will, providing you have the appropriate Insurance coverage, assess content items to determine the possibility of successful restoration. Other specialists such as French Polishers, electrical engineers and upholsterers may be required to inspect damaged items. This will be discussed with you by the Technician or Loss Adjuster.

It is appreciated that affected items may range from floor coverings to light fittings and everything in between and so a wide range of restoration techniques have been developed. Depending upon the extent of damage it may be necessary to remove items for cleaning off-site.

Once an assessment of the items to be cleaned has been completed, an estimate detailing items that can be economically restored will be provided to the Insurers or Loss Adjusters for their approval before we can proceed.

Items that are beyond economical restoration will be identified, listed and with your approval removed. Your Insurers or Loss Adjusters will require a list of these items to organize replacement/settlement.

We service the following locations to name just a few:

Montreal, Longueuil, Boucherville, Brossard, Candiac, LaSalle, Laval ...and surrounding areas.